You arrived here on
at

You are now listening to the tune of
"TAKE ME HOME, COUNTRY ROADS"
by John Denver:
Words and Music by John Denver
Copyright (c) 1988 Cherry Mountain Music (ASCAP)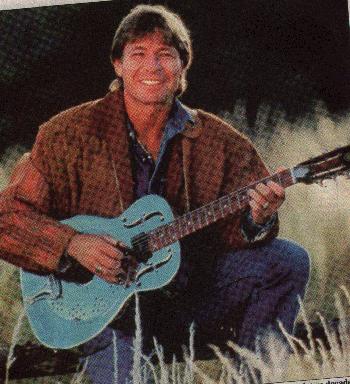 A TRIBUTE TO A COUNTRY BOY WHOM WE LOVE SO DEAR,
WENT HOME TO BE WITH OUR LORD ON 12TH OCTOBER 1997
JOHN DENVER
As I started to prepare the setting up of this page, I said a quiet prayer. I told God that a rich, strong and yet clear voice has suddenly left us. I put a John Denver CD into the CD-Rom drive and as the songs played throughout the period of my setting up of this page, my mind race back to those good old days when I was in secondary school, buying and listening to each of John's 45-rpm single and extended play records (those days cassette tapes and CDs are a nonetity to us). Later, my collection has changed to a series of Compact Discs. And as I scanned those pictures of John from the sleeves of these CDs, somehow I feel a tinge of sadness deep down inside my heart. Occasionally a drop or two of tears fell from my eyes. So John, this is my tribute to you and may we meet again in Heaven, this time a much happier reunion.
- Herman Leong.

MUSIC SOARED OVER MOUNTAINS, SPOKE OF LOVE

JOHN DENVER, the boyish-looking country-pop singer, died when the plane he was flying crashed into the Pacific Ocean shortly after take-off from Monterey Airport in California.

A licensed pilot and son of an airforce officer, the 53-year-old crashed his single-engined two-seater plane off Monterey Bay on Sunday.
His body was so badly dismembered that police were unable to identify it officially until Monday. Copies of his fingerprints were flown in from Colorado to make the identification. Pieces of his body had still not been found and said his body was dismembered when Long EZ, his ultra-light Fiberglass plane, disintegrated on impact after nosediving into the ocean shortly after take-off.
Witness Carolyn Pearl said the aircraft "went up a little bit and absolutely straight down, not spiralling, just absolutely straight down. I thought it was some kind of acrobatic move, then I realised it wasn't". National Transportation Safety Board investigator George Petterson said that just before the crash, Denver had been checking with the flight tower, giving them his transponder code that allowed radar to track an aircraft. "His last words were: 'Do you have it now?' " he said.
| | |
| --- | --- |
| | The plane is to be reconstructed in a hangar, allowing investigators to see what may have failed during the flight. Denver, whose high, pure voice and unabashedly sentimental lyrics won him legions of fans, earned two dozen gold and platinum albums. The singer came out of the '60s folk movement to reach commercial heights. Although he performed his blend of folksy, happy-go-lucky songs around the world and had a big live following even after he stopped making gold records, his first big success was a s songwriter. |
His "Leaving on A Jetplane" was an international hit for Peter, Paul and Mary in 1969, when the US was in tumult over the Vietnam War. In 1971, Denver hit the charts himself with the million-selling "Take Me Home, Country Roads". He was one of the biggest-selling singers in the world during the '70s, producing "Rocky Mountain High", "Annie's Song", "Sunshine On My Shoulders", "Back Home Again", and "Thank God I'm a Country Boy". Four of his albums sold more than a million copies.
His death drew a lament from President Bill Clinton. "His soaring music evoked the grandeur of our landscape and the simple warmth of human love," he said. True to his folk roots, Denver's pop hits were personal, but he was also criticised for being corny and banal. His career began to wane as the '70s ended and he became a supporter of environmental causes, founding the non-profit Windstar Foundation.
Denver, born John Henry Deutschendorfer, in Roswell, New Mexico, dropped out of school to pursue a career in folk music in Los Angeles and sang with the Chad Mitchell Trio in the '60s. By the early '70s, he had settled in Aspen, Colorado. In the rarified air of the Rocky Mountains, he embraced environmentalist movements and threw himself into humanitarian and ecological causes. In 1975, he reached the peak of his fame, winning Entertainer Of The Year and Singing Star Of The Year awards. He also tried his hand at acting, first in TV and then starring with George Burns
in the 1977 film "Oh God!" . In the '80s and '90s, his star faded although in recent months, there has been renewed interest in him, with a greatest hits album climbing the US country and western chart. "I feel as if I'm singing better now than I ever have in my career," he said in February.

In recent years, he had become interested in space exploration and was a member of the Presidential Commission on World Hunger.
He hit the headlines in the early '90s with two drunken-driving charges stemming from incidents near his home. He was married to his first wife Annie, for whom he wrote "Annie's Song" for 15 years. They adopted a boy and a girl but divorced in 1983. He had a daughter with his second wife Cassandra, whom he married in 1988.
Meanwhile, divers pulled out the plane's engine from the waters of Monterey Bay, about 160 km south of San Francisco. The salt water has not taken its toll on the engine as much as we feared as far as eating into the magnesium and that sort of thing. The engine is basically intact. Denver's futuristic, Y-shaped Long EZ was designed in 1979 and was one of about 1,000 currently in use, including two that recently made round-the-world trips. Aviation experts call the Long EZ a safe craft to fly.

FOR

on Ricky Nelson & Friends, please

.
on Elvis Presley, please

.
of a Devoted Mother, please

.


This Page was created on 16th October 1997 and hosted by